About us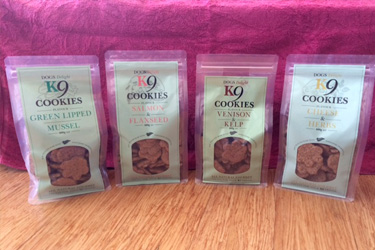 We are a small New Zealand Business based at Tapawera in the South Island. We have developed K9 Cookies, a new concept in nutritious gourmet dog biscuits. The all-natural ingredients are produced within New Zealand (with the exception of grapeseed oil from Italy).
After our first Boxer Devon, died of cancer at only eight, we wanted to extend the life span of our new boxer, Daisy. Our research on dog nutrition revealed the quantities of preservative, additives, salt, sugar and other ingredients in dry dog foods. Entire animal carcasses of beef, pork and chicken are often minced to be used – teeth, hooves, horns, skin.Old and sick animals, and otherwise valueless small animals like day-old baby male chickens are all euthanised, minced and used – not healthy eating for a dog! Google MEAT BY-PRODUCTS and you'll see what we're getting at!
We wanted a good, well balanced dry food to go as a compliment to Daisy's varied diet. We wanted a biscuit that could be used as a treat and breakfast biscuit. Unable to find a New Zealand made biscuit that suited what we were after and the flavours we wanted with all-natural ingredients, and no added preservatives, colourings, flavourings, salt or sugar we decided to develop our very own.
After doing some more research into ingredients for dogs we came up with some recipes that we thought would benefit Daisy and most importantly of all, would smell delicious and taste great. We wanted cookie flavours which were unique and in some small way were going to help with Daisy's health and well-being. Parmesan cheese, herbs, wholemeal flour, flour, and grapeseed oil were put into our Chef's Kenwood mixer. The biscuit mixture was cut into paw shapes and baked into the first batch of K9 Cookies. These and other flavour developments went down very well with Daisy. Her three favourites are Cheese and Herbs, Green Lipped Mussel, and Honey and Cinnamon.
After a while a seed of thought grew in regards to sharing our cookies with friends and family that we could spread the word about the New Zealand made all-natural food option for Dogs through starting a small business selling our cookies to the public. A taste test with a wide variety of dogs was very positive, so we were in business.
COOKIE INFORMATION
Our Cookies come in 400gram bags and have approximately 50-60 cookies in each bag. The size is roughly the same size if you put your thumb and forefinger together to make a circle. So about the right size for all sorts of uses. General feeding, treat based training etc. They have a 5 month shelf life and have a small moisture control sachet in the bag to keep them crisp. They're best eaten within 3-5 weeks and kept in an airtight container or resealed in the handy tin-tied bag they come in. You can feed at least 4 cookies per day or more if your dog is keen!
The easiest way to get your K9 Cookies is to order them on-line directly with us. They will be as fresh as can be and will arrive at your door within a few days. They are also being sold in Fresh Choice Supermarkets and selected Vets in the Nelson/Tasman and Christchurch regions. Plus New World Motueka.
Please enquire here for a list of all our stockists
We have also been featured in the Nelson Mail on the 21st of October in their 'Fresh' section.
Nelson SPCA
We are proud to be associated with the Nelson SPCA and to support them with product and to be involved with the fund raising activities they have throughout the year.
Nelson Ark
Dogs Delight are very happy to be involved with the Nelson ARK programme.
The Nelson ARK brings together rescued dogs, youth-at-risk and older people as volunteers or participants to help each other in a variety of educational rehabilitative and integrative programmes.
The Nelson ARK believes that joining these groups together in a meaningful and caring endeavour will benefit not only the animal and human participants but will have positive effects for the entire community.