Dogs Delight K9 Cookies – All-natural gourmet treats for your dog
Taste Teasers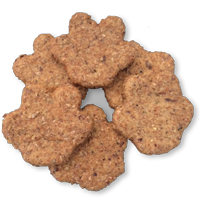 Do the test:
Offer our cookies with your dogs usual dried dog food and see which one he/she prefers.
Our dog goes for our cookies first every time!
8 cookies per bag for $3.00 plus $2.00 postage.
Welcome to the home of K9 Cookies and Daisy the Boxer who is our Chief Taster and no.1 fan. K9 Cookies are an all-natural gourmet Dog Treat made in New Zealand from human grade wholesome ingredients that contains no added preservatives, flavourings, colourings, salt, or sugar. They are perfect as a compliment to all good balanced, varied K9 diets.
We developed K9 Cookies, a new concept in nutritious gourmet dog biscuits in response to our first Boxer, Devon dieing prematurely. We wanted a delicious, healthy, all-natural biscuit to compliment Daisy's diet. So we started making our own and came up with K9 Cookies. The ingredients we use are all produced within New Zealand (with the exception of grapeseed oil from Italy).
We believe variety in a Dogs diet is the key. Different foods all in moderation. After all, you wouldn't just feed yourself cabbage all day every day would you. It's the same for dogs. They will get bored and no matter what any company says, there is no way any dog can get everything they need in just one food!
Cookie Selection
Green-lipped mussels – green-lipped mussel is a great source of Glucosamine and Omega 3 which help with ligaments, joints, and tissue health
Venison & Kelp – Venison has low calories and fat, a rich source of Vitamin B12, B6 and iron. Kelp contains unique antioxidants, is high in iron, boosts immune system. Fights cancer and arthritis
Cheese & herbs – parmesan cheese and rosemary, garlic, and parsley have many known benefits
Salmon & Flaxseed – High quality protein, omega 3, vitamin B12
NEW PROTEIN RICH BALANCED MEAL – NZ MADE
Try our new 100% quality NZ grown ingredients – all natural, packed with health and nutrition
Venison & Kelp – Venison has low calories and fat so you get the same benefits of unsaturated fat as though you are eating fish or nuts, a rich source of Vitamin B12, B6 and iron. Kelp contains unique antioxidants not found in other vegetables, is high in iron, a natural source of Iodine which is important for the thyroid, immune system. The fucoidan in kelp has been shown in studies to have the ability to induce apoptosis (cell death) in cancer cells. The Rapeseed meal is a high quality protein packed with health benefits including the naturally occurring Omega 3, 6 & 9, Vitamin E and Phytosterols. Pumpkin Seeds are nutritional powerhouses with a wide variety of nutrients ranging from magnesium and manganese to copper, protein and zinc. One of the best sources of plant-based omega-3s, promotes healthy heart, liver and reduces risk of arthritis. Whey protein helps improve immune function because it contains cysteine, lactoferrin, immunoglobulins, BCAAs, and because it helps maintain glutathionean (antioxidant that helps with immune function).
Abalone & Tofu – Abalone (Paua) feed on kelp and is highly regarded in Asian cultures for its health benefits, is high in Omega 3, vitamin B & E, is believed to prevent arthritis, enhance the function of the liver, reduces the risk of cancer, promote healthy eyes, and improve circulation. There are major health benefits of Tofu compared to meat including making middle-aged bones stronger, lowers the risk of cancer, helps lower bad cholesterol, great source of calcium and vitamin E. Rapeseed meal (as above). Sunflower Seeds are an exceptional source of vitamin E which plays a very important role in the prevention of cardiovascular disease, a good source of selenium which will inhibit the proliferation of cancer cells, and to induce their apoptosis(cell death). Anti-inflammatory which reduces risk of arthritis, rich in magnesium – great for strong bones. Pumpkin Seeds/Whey (as above).
enquire about our economical bulk packs and wheat/gluten free options
– email us for further information – enquiries@dogsdelight.co.nz
WE ARE THE ONLY COMPANY IN NEW ZEALAND THAT IS MAKING A GREEN LIPPED MUSSEL DOG BISCUIT.
What's really in mass Produced Commercial Dried Dog Food?
We recommend you do what we did and do some research into dried Dog Food, the dried Dog Food manufacturing industry, and what companies actually produce dried Dog Food. It really opened up our eyes to what is really in dried dog food and what we had been feeding our first Boxer. It appalled us. Google Dog Food Report and get the real oil on what's really in Dried Dog Food.